Director/Producer
Born in Dubai, Mahdi Fleifel lives and works between Denmark, England and Greece. A graduate of the UK's National Film & Television School, he studied Fiction Directing under Stephen Frears and Pawel Pawlikowski. In 2010 he founded the London based production company Nakba FilmWorks with Irish producer Patrick Campbell.
Fleifel's critically acclaimed debut feature, A WORLD NOT OURS, premiered at the Toronto International Film Festival and received over 30 awards, including the Berlinale Peace Prize, and the Edinburgh, Yamagata and DOC:NYC Grand Jury Prizes. He was named Best New Nordic Voice at Nordisk Panorama, and received the New Talent Award at CPH:DOX in 2013.
In 2016 Fleifel won a Silver Bear for A MAN RETURNED. His follow up, A DROWNING MAN, was selected in the Official Competition at Cannes, and was nominated for a BAFTA. His last film, I SIGNED THE PETITION, won Best Documentary Short at IDFA and was nominated for the 2018 European Film Awards.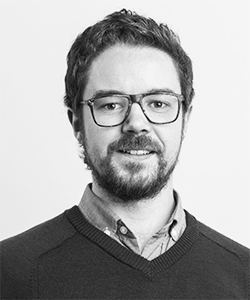 Producer
Born and raised in Dublin, Patrick's academic background is in Anthropology and Sociology, but he has been drawn to filmmaking from a young age. Since moving to London, he has freelanced as a production manager, line producer and producer on pilots, shorts, and features.
In 2010 Campbell and director Mahdi Fleifel formed the production company Nakba FilmWorks to produce feature documentary 'A World Not Ours' and Fleifel's subsequent works. He has also engaged in collaborations with other directors including with his brother Duncan Campbell to produce The Welfare of Tomás Ó Hallissy in 2016.
Patrick is currently developing a new fiction feature, 'Men in the Sun', with Fleifel through Nakba FilmWorks and co-producers Final Cut For Real in Denmark. Alongside this he has different fiction and documentary projects in various stages of development.